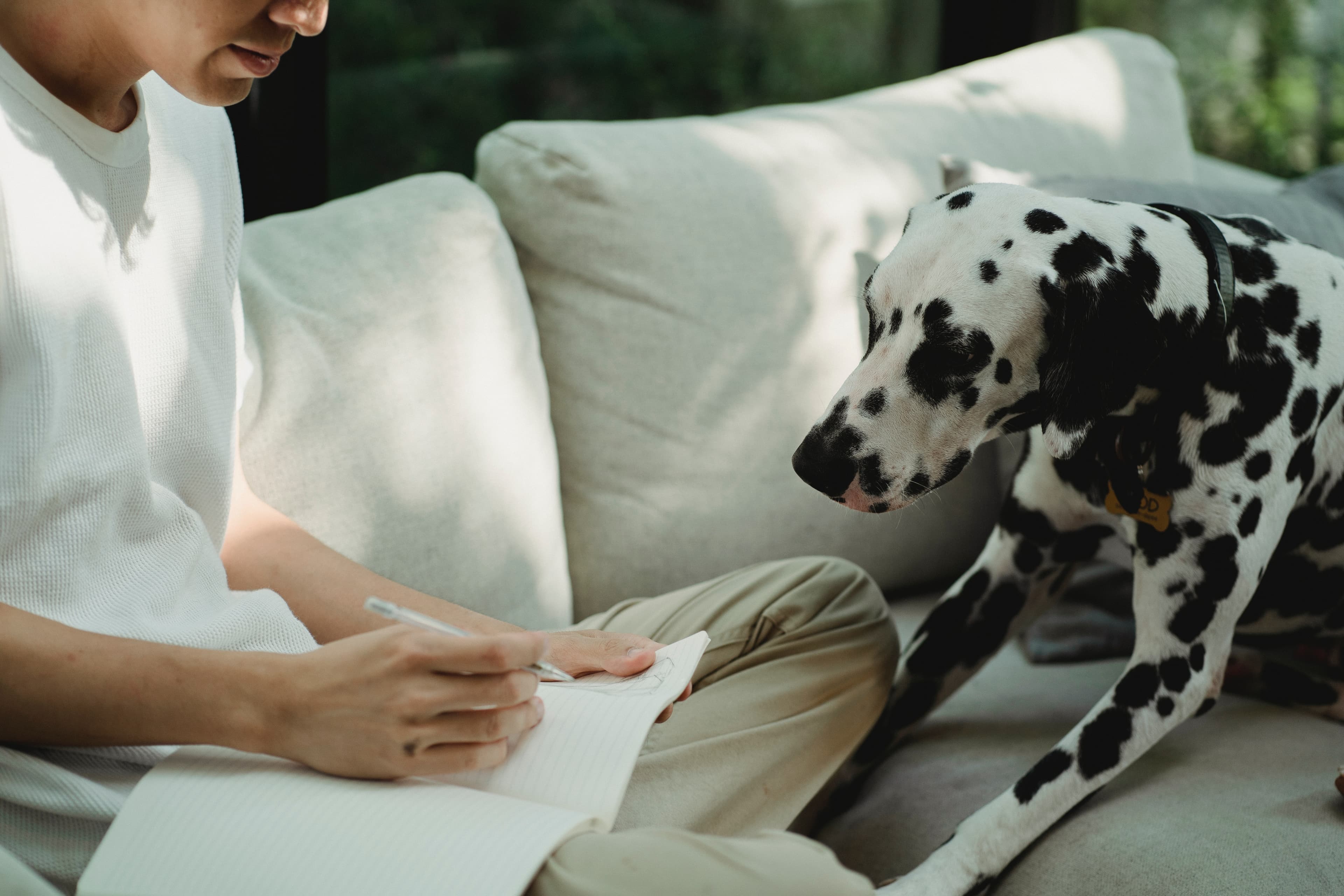 Nibbled couch at friends or worse: a personal injury after a bike crash caused by your dog? If you're not careful, damage caused by your dog can quickly become very expensive. Lassie's dog liability insurance covers physical and material damage caused by your dog to third parties.
Personal injury, property damage and financial loss insured
Additional protection packages can be booked
All breeds welcome
Our tariffs in comparison
Lassie offers two dog liability insurance packages - either with no deductible or with a deductible of 150 euros per claim.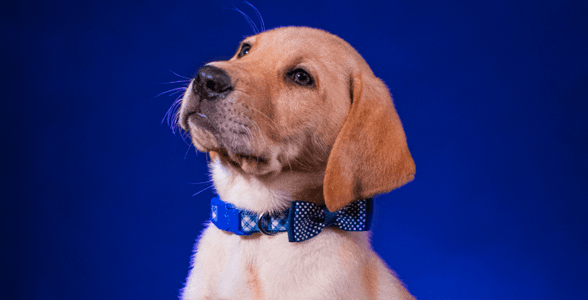 Liability
...for personal injury and property damage per insured event. Here you can see up to what amount personal injury, property damage and financial losses are covered.
The deductible indicates the amount of the costs per invoice that you have to pay. You can choose between a €0 and €150 deductible.
Rental property damage to buildings
Here you can see whether rental damage to residential premises and other premises and buildings rented for private purposes is also insured up to the sum insured.
Other rental property damage
Here you can see whether damage caused by the insured dog to borrowed, rented, leased or leased other property is also insured.
Here you can see whether damage caused by animal excretions, such as urine or diarrhea, is insured.

Compulsory dog liability
In Deutschland haften Hundehalter für Schäden, die durch ihren Vierbeiner an Dritten verursacht werden. Die Privathaftpflichtversicherungen decken diese Schäden in der Regel nicht ab. Einige Schäden können in ungeahnte Höhen gehen, zum Beispiel, wenn dein Hund einen Autounfall mit Personenschaden bewirkt.
Sichere dich gegen hohe finanzielle Ansprüche Dritter aufgrund von Personen-, Sach- oder Vermögensschäden ab.

Did you know...?
In the federal states of Berlin, Hamburg, Lower Saxony, Saxony-Anhalt, Schleswig-Holstein and Thuringia, there is a general obligation to provide liability insurance for dogs.
Pet insurance according to your wishes
Bei Lassie kannst du deinen Hundehaftpflichtschutz nach deinen Wünschen und Bedürfnissen konfigurieren. Es gibt folgende zubuchbaren Versicherungsleistungen:
Best performance guarantee
Includes premium waiver in the event of unemployment for up to 12 months and compensation for the replacement value of items up to 5,000 euros if they are no more than 1 year old.
Immediate help for dog bite
Payment of up to 500 euros for veterinary costs incurred if your insured dog is bitten by another dog.

Insurance rental objects
Reimbursement of damage to rented and leased property worth up to €5,000 if caused by your insured dog.
All in one app
No more tedious paperwork: In the Lassie app, you can manage your insurance policies digitally: see your insurance documents, report a claim in just a few steps, or chat personally with our customer service if you have any questions.

The app also offers valuable content, including preventive measures to prevent diseases in your dog. Benefit from the extensive expert knowledge of veterinarians and dog trainers.
Everything from one source
In addition to dog liability insurance, Lassie also offers dog surgery insurance and three dog health insurance rates. This gives you the opportunity to take out all insurance policies for your dog with Lassie and manage them centrally in the Lassie app. Whenever you have a concern, our customer service is there for you personally. Our opening hours are Monday to Saturday from 8 a.m. to 2 p.m. and you can reach us by phone, e-mail and chat on our website or in the Lassie app.
🐶 Cat insurance
Cat Health Insurance

Cat OP Insurance
Insurance in 2 minutes
1. Price received
Answer a few questions and get rates and your prices in a few seconds. Free of charge and without obligation.
2. Select tariff
Compare rates and choose the right insurance based on benefits and prices.
3. Complete protection
Fill in a few details and take out your insurance conveniently online. Then it's time to enjoy the best protection.
Calculate prices and compare rates now - free of charge & without obligation!
With Lassie pet surgery or health insurance, you can enjoy carefree time with your furry friend.
What do our customers think?
Dog Liability Insurance FAQs
When does my insurance coverage start?
There is a general waiting period of 30 days from the start of insurance. However, here is no waiting period for insurance coverage due to accidents or within the scope of the precautionary budget! Furthermore, the general waiting period for telemedicine through our partner Pfotendoctor does not apply.
However, the insurance coverage only starts if the payment is made on time, which is within 14 days of receipt of the insurance policy.
The sum insured corresponds to the flat-rate sum insured, which is stated in the insurance certificate and its supplements. The sum insured represents the maximum compensation for all insured events in one insurance year.
Cover: Up to €10m

Deductible: Choose 0 or €150

Rented/borrowed objects: Up to €5,000 (add-on)

Replacement value compensation: Up to €5,000 (add-on)

Emergency aid for dog bites: Up to €500 (add-on)
What is not covered by dog liability insurance?
Claims between insured persons and claims from relatives

Intentional damage (e.g. damage that is not caused by accident)

Damage beyond the statutory liability

Penalties and fines

Hunting dogs that are already covered by hunting liability insurance
In some cases, the insurance does not provide unlimited coverage up to €10m. This includes the following:
Damage caused by intent

Claims of co-insured persons or relatives living in the same household
Additionally, the following limitations apply to the additional services:
Replacement value compensation is limited to €5,000

Emergency aid for dog bites is limited to €500

Compensation for rented or borrowed items is limited to €5,000
Remember that you may also need to pay a deductible in the case of an insurance claim, depending on your chosen deductible and insurance premium.
Does Lassie's dog liability insurance cover damages abroad?
Lassie's dog liability insurance cover is valid in the Federal Republic of Germany, for an unlimited stay abroad in Europe, and for a temporary stay of up to 5 years outside of Europe. If you're planning to travel outside of Germany with your dog, it is important to have dog liability insurance, as claims for damages in other regions may be far higher than they are in Germany.  
Can I use points to get a discount for liability insurance too?
You can earn points by taking courses related to your dog's health and preventative measures, and then answering quiz questions correctly in the Lassie app. By learning about your dog's health and how to handle it, you have the opportunity to reduce your dog's risk of illness and injury. Because the focus of these courses is preventative health, points can only be redeemed in the form of discounts on health and surgery insurance packages.
Are damages within my own house or apartment insured?
No. All dog liability insurance only covers damage caused to third parties, and Lassie is no exception. Any damage caused in houses or apartments you own will not be covered.
How high is the deductible?
A deductible is the amount you pay yourself in the event of damage or a claim. After the deductible has been paid, Lassie's dog liability insurance will cover any remaining costs up to the maximum sum insured. With Lassie you may choose to pay a € 150 deductible, or € 0 (no deductible at all!) If you choose to pay a deductible, then your monthly or yearly insurance premium is decreased.
Who can use the dog liability insurance?
Lassie's dog liability insurance covers you as the policyholder, of course. But
did you know that "non-commercial third parties" are also covered? This includes family members, partners or roommates, or other non-commercial dog guardians (basically anyone who occasionally helps walk or care for your four-legged friend). The only people who are not covered are professional dog sitters, as they have their own dog liability insurance as part of their job.
Which breeds of dogs can be insured with Lassie's liability insurance?
All dogs are welcome at Lassie! We have no limitation on which breed, age, gender, or size of dogs may be insured.
Where can I find my insurance documents?
Lassie is a 100% digital insurance provider. All insurance documents can be easily accessed in the Lassie app under the "Insurance" tab. You will also find them in your email inbox, attached to our welcome email.
What is insured through dog liability insurance?
Dog liability insurance exists to cover costs that occur due to damages to third parties during the valid insurance period that resulted in personal injury, property damage or financial loss. This includes:
The examination of the liability issue (e.g. help to solve who is liable for a claim/damage, in court)

The defense against unjustified claims for damages (e.g. help if someone accuses the dog of causing damage, in court)

The release of the policyholder from justified obligations to pay damages (e.g. help to release you from being liable to compensate for damages that your dog is not responsible for, in court)
The insurance cover also includes the liability of co-insured persons.
Additional services:
Best performance guarantee

Best protection

Exemption from contributions in the event of unemployment (up to 12 months)

Replacement value compensation for items (if max. 1-year-old)

Emergency relief for dog bites

Insurance coverage for rented or borrowed items
What is dog liability insurance?
Dog liability insurance is a special form of liability insurance made for dog owners. Should any damages to third parties due to your dog's activities occur that result in damage to property, financial loss, or personal injury, the dog liability insurance comes to the rescue. In some cases, especially in the case of personal injury, the costs may run into the millions. If you don't have insurance, you are liable to pay these costs yourself with your entire private assets. That's why dog liability insurance is so important, and why it is required in certain states, such as Berlin, Brandenburg, Hamburg, Lower Saxony and Thuringia. In some other states, dog liability insurance is required for so-called "listed" dog breeds.