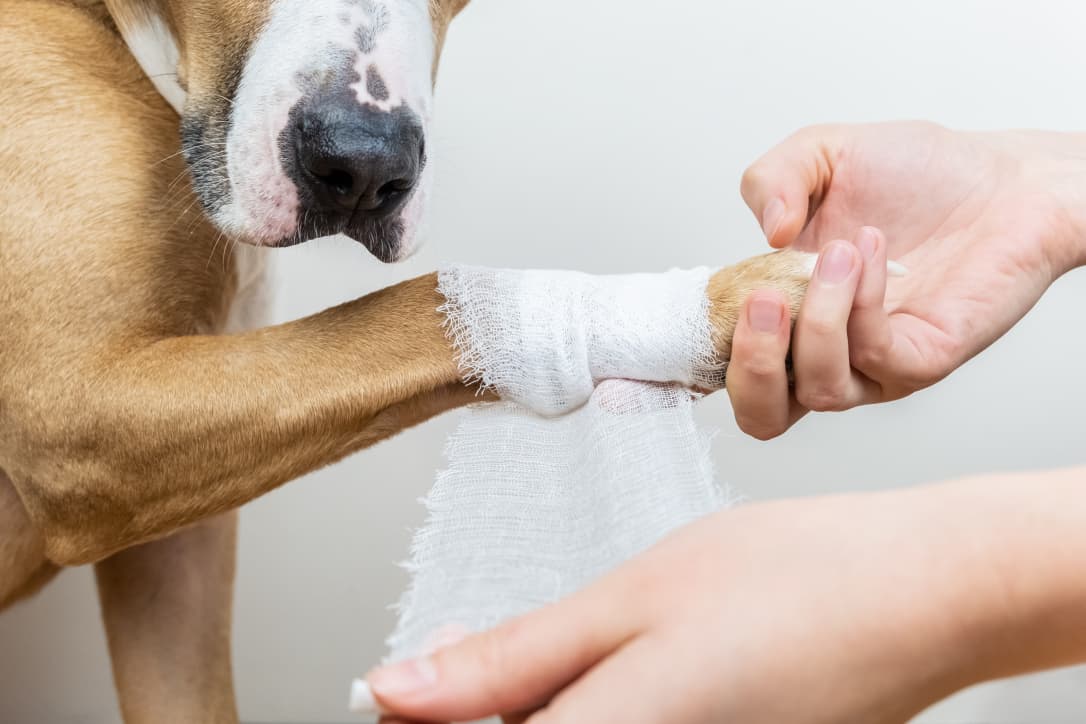 Nobody wants to have to submit a claim - for example, if your furry friend is sick or injured and needs veterinary treatment, or if your dog has caused damage to someone else's property and now claims are made against you. However, if and when the damage occurs, it is good to know how to proceed!
Your pet is not well - arrange a veterinary video consultation
If you are worried about your four-legged friend and are not sure whether you should see a vet, we recommend you first use your video consultation with our partner Pfotendoctor. In many cases, a veterinary assessment can also be done digitally and you will receive immediate recommendations for treatment. If your dog or cat is covered by Lassie's pet health insurance, you can have a free video consultation with a professional veterinarian from Pfotendoctor. If you have Lassie's surgery insurance, you can use Pfotendoctor free of charge during the 30-day post-treatment period.

Start booking a vet video consultation directly through the Lassie app.


You have a claim, now what? This is how you proceed
There are several ways to submit a claim to Lassie:
about the Lassie App

via email to schaden@lassie.de.
If you have any questions regarding the claim, we will contact you by e-mail.
Our claims department is available Monday-Friday from 9:00 - 17:00.
Send this information in an email
(You can take photos with your phone!)
Payment will be made to the account of your choice, usually within 3 working days of submitting your full claim form
✔
Account number we should send payment to
Review your Claim
Your claim was rejected, and you disagree with the decision? Then you have the option to submit your case to the Lassie Appeals Committee to have the case reconsidered.
Please click on "Download Template", fill out the document and send your case to schadenpruefung@lassie.de.
What do I do if I have receipts from different veterinary visits?
If you have receipts from different veterinary visits, you will need to take a picture of each receipt and upload them separately to the Lassie app. As soon as we receive the receipts, we'll look at them and if the damage is covered by your insurance, we'll arrange a payout.
How do I make a claim or submit an invoice?
It's very easy to submit a claim for reimbursement. There are two options available to you:
The easiest way to submit a claim is to fill out a form in the Lassie app. In the "Insurances" section of the Lassie app, you will find both an overview of your previous claims and the option to submit a claim.

Alternatively, you can send it via email to schaden@lassie.de
If you have pet surgery or health insurance and would like to file a claim via email, please include the following information:
the policy number,

the invoice(s),

the visit dates/report,

all receipts,

any prescriptions from the pharmacy

and the account number you would like us to make payment to. 
If you want to report a claim to us under your dog liability insurance policy, we will need the following information from you, if available:
Description of the damage

Photos of the damage;

Location of the damage (as detailed as possible);

Name, contact details and some other details of the injured person

Names and contact details of persons involved

Information about your connection to the person who is making the claim for damages

Description of the question of guilt

Time when you became aware of the damage
If you have any questions about your claim, you can contact our claims team at schaden@lassie.de or via in-app chat.
Will Lassie pay for injuries or illnesses that are due to pre-existing conditions (prior to purchasing Lassie insurance)?
We do not currently reimburse for treatment and surgery due to previous medical conditions or previous illnesses that existed/began prior to the start of coverage - i.e. something for which your pet has been treated, medicated, examined or shown symptoms within the last 24 months. Provided your pet has not shown symptoms for 24 months and no treatment, medication or investigation has been carried out for this previous condition, costs for treatment and surgery will again be reimbursed if medically necessary under the General Conditions of Insurance.
How many injuries can I report in a year?
With Lassie pet insurance, there is no limit to the number of claims you can file per year. Please note:
For pet health insurance, reimbursements per policy year may have a benefit limit depending on your selected plan.

For dog owner liability insurance, the compensation for all claims per insurance year is limited to twice the agreed sum insured (= maximum compensation of 20 million Euros per year).
How does reimbursement work?
Reimbursement is quick and easy at Lassie. As soon as you get your invoice you can send it to us as described above. Our claims team will calculate which costs will be reimbursed, which depends on your package and deductible, and will transfer the money to your account within a few days. Usually the process takes less than one week!
Depending on the vet's chosen term of payment, you can wait for reimbursement before paying the bill, or you can pay in advance and get reimbursed afterwards. Direct settlement with the vet is currently not possible.
Please note that the assessment and reimbursement may take longer in the case of a liability claim, as the cases are more complex.
How does Pfotendoctor work?
When you purchase Lassie surgery or health insurance, you get access to online video consultations with a veterinarian from our partner Pfotendoctor. If you have Lassie health insurance, using Pfotendoctor for 24/7 medical video consultations is free and does not affect your insurance premium. Please note: If you have Lassie surgery insurance, you may only contact Pfotendoctor for free 10 days before and 30 days after a covered surgery.
We recommend that in cases where you are not sure whether you need to see a vet, you contact Pfotendoctor first. In many cases, the vet can give you a video assessment of your pet's condition and a recommendation for next steps.
Pfotendoctor helps you with veterinary issues right from your phone. Common questions they help with are:
Vomiting and diarrhea

Skin problems and itching

Colds (coughs and sniffles)

Possible poisoning

Accidents and injuries
Here's how Pfotendoctor works:
 Before the call
You can book an appointment directly through the Lassie app in just a few seconds by answering a few questions about yourself and the health of your furry friend. If you haven't already done so, download the Pfotendoctor app to perform the video consultation. If this is not possible for you, you can also specify in the booking that the vet should reach you by phone.
During the call 
Your visit will take place via a video call on your phone, tablet, or computer. You will receive a reminder via SMS just before your call begins.
After the call
Pfotendoctor will make the diagnosis and make sure your pet gets the treatment they need. You will receive a record of the consultation and diagnosis from the vet. If your pet needs further care, you will receive a referral for treatment.
Do you cover home visits by a veterinarian?
Yes, if a veterinarian decides to make a home visit in the event of a life-threatening injury or illness. Please note that transport costs of the vet cannot be covered.