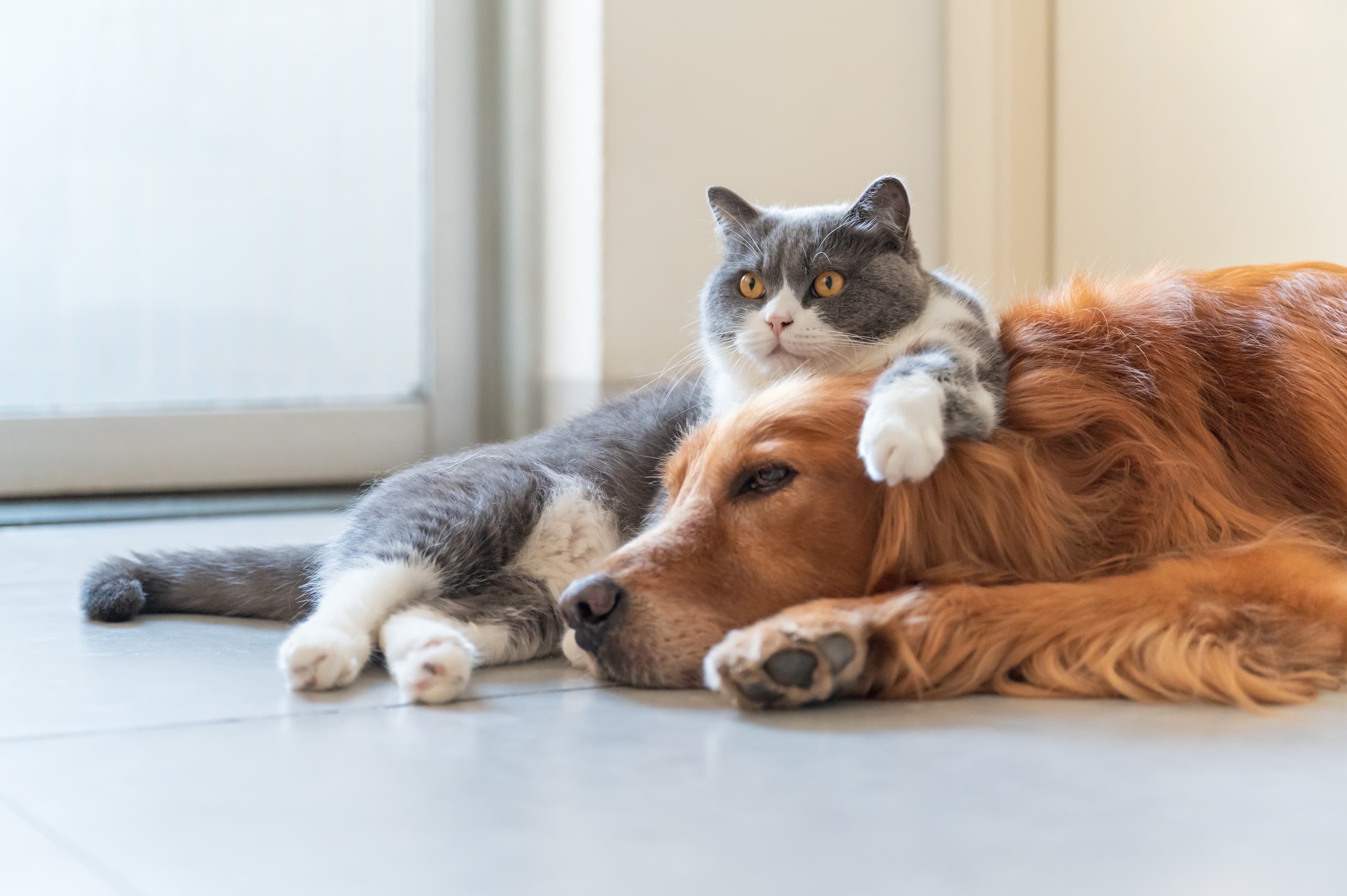 Refer friends and win a prize
September is going to be exciting! The Lassie September Challenge offers great gifts for our most loyal customers. Use your referral code and convince your friends about Lassie! For every animal you refer, you'll get a €15 discount on your own policy. But that's not all: for every 5 animals you recommend, we'll add a gift, and for every 10 you recommend, you'll get an extra-large surprise in gift format. It's worth joining in!
Tell your friends about Lassie and win a prize
If you convince your friends about Lassie and they insure their pet with us, both of you will receive 15 € per insured pet. That's not enough for you? Not enough for us either! Only in September you will receive an exclusive gift for 5 animals recruited - yes, animals, so quickly recruit the catlady with 5 cats in your group of friends before someone else does it - for 10 animals we will add a big bonus and make it a deluxe gift.


How does it work?
In the Lassie app you will find your personal code in the "Points" tab. With this code you can invite your friends. If 5 friends use the code, 75€ will be credited to your next bills.
Copy the code in the app

Send code to your friends

5 (or 10) friends sign up with Lassie

You will get 75 € (or 150 €) discount on your insurance and a gift.
So, get the code and start saving!
Frequently asked questions:
Only private individuals and customers of the Lassie AB branch in Germany are eligible to participate. Participation in the Lassie AB Refer-a-Friend Program and September Challenge is free of charge and subject to the terms and conditions stated on this page or linked pages.
How can I participate in the promotion as a Lassie customer?
To participate in the September Refer a Friend promotion, you need the Lassie app. You can download it from the Google Play Store or the Apple Store and register with the e-mail address you used to take out your insurance policy(ies) with Lassie.

Once you have installed the Lassie app, you will find your personal code under the "Points" tab, which you can share with friends and acquaintances. You can share your code with as many friends as you like.

If your friends take out an insurance policy for their dog or cat with Lassie and enter your personal discount code in the online registration process, the first step for a referred customer is done. Please note: your friend's purchase is only considered successful and counts as a successful referral if the following two conditions are met:
Your friend has paid the first premium of the insurance purchased with your code on time.

Your friend has not cancelled the insurance purchased with your code within the 14-day cancellation period.
What do I get from a successful referral and from the September promotion?
If a friend uses your personal code when taking out an insurance policy on the Lassie Deutschland website, pays the first premium on time and does not cancel the contract within 14 days of taking out the policy, this counts as a successful friendship referral. As a thank you, you will receive a 15€ discount on your insurance premium. This amount will be automatically deducted from your next bill (either monthly or annually - depending on your chosen payment cycle).

As part of the September refer-a-friend promotion, there are now even more benefits: If you refer 5 friends or 10 friends, you will receive an additional gift. This applies to every participant who receives 5 or 10 successful friend referrals in September.

Please note: If the amount due to you as a result of successful friend referrals exceeds your insurance premium payable to Lassie, there will be no cash payment or credit towards the next insurance year. In addition, it is prohibited to distribute your personal code on the Internet. Any resulting referrals will not be considered successful and will not be counted towards the refer-a-friend program or the September promotion.
Of course, your friends will also benefit: they will receive a 15€ discount on the first insurance year with your personal code.
How do I know if my recommendation was successful?
You can view the status of successful referrals under the "Insurance" tab and the "Your Payments" button in the Lassie app.
When will I receive the gift if I have successfully referred 5 or 10 friends?
Participants will receive the gift digitally or by mail within 4 weeks after the end of the sweepstakes.
The successful participants will be contacted by e-mail within 7 working days after the end of the competition and informed that they will receive a gift. The e-mail address stored in the customer account will be used for this purpose. The prerequisite for sending the gift by mail is that the participant sends the shipping address by mail.
What are the other conditions of the Refer-a-Friend Program and the September promotion?
Prohibited conduct / exemption

Participants undertake not to publish and/or transmit in their own comments any data, texts, images, files, links or other content that is illegal, harmful, threatening, abusive, harassing, defamatory or offensive, obscene, hateful, racist or otherwise objectionable under the relevant statutory provisions, in particular pornographic, glorifying violence or otherwise harmful to minors; and/or that infringes the rights of third parties, in particular patents, trademarks, copyrights or ancillary copyrights and personal rights. Should third parties assert claims for infringement of their rights, the participant in the competition shall indemnify Lassie AB against all claims. The participant is responsible for all activities committed via his Instagram account.

The winners will be drawn at random from all timely and correct comments after the sweepstakes ends.

For this sweepstakes via Instagram, winners will be notified via a personal message on Instagram. Each winner must respond via a private Instagram message with their address details within a period of 2 weeks of the prize notification.
If a winner does not get in touch within this period, the prize will be raffled again among all remaining participants. Names of winners will not be published, or only in a highly anonymous form.

The prizes will be sent by mail to the address received as soon as possible after receipt of the address, free of charge for the participant. The shipping time can be up to two weeks. The prizes will only be sent to addresses in Germany.

Disclaimer
Lassie AB is not liable for any technical faults that may occur during data transmission for which Lassie AB is not responsible. Likewise, Lassie AB shall not be liable for the inaccessibility of the Refer-a-Friend program, insofar as Lassie AB is not responsible for such inaccessibility.
Data protection
The address data of those who have recruited at least 5 or 10 friends and are entitled to the gift will be used exclusively for sending the gift by post.
Information on Lassie AB's privacy policy can be found on the following Lassie AB website: https://de.lassie.co/datenschutzbestimmungen.

Modification / termination of the competition
Lassie AB reserves the right to cancel, interrupt or terminate the September friends-recruit-friends promotion at any time without prior notice and without giving reasons and/or to adjust the conditions of participation. This applies in particular if, for technical or legal reasons, proper implementation of the promotion cannot be guaranteed.
The discount from a successful friend recommendation is not transferable - the authorized recipient is always the recommender who has made a successful recommendation. Employees of the participating company are excluded from participation in the September promotion. The legal process is excluded. No cash payment or exchange of rewards possible.
Organizer of the September friends-recruit-friends promotion

Lassie AB Branch Office
c/o Factory Works GmbH
Rheinsberger Street 76/77
10115 Berlin
Imprint
Instagram is not the (co-) organizer of the friends-recruit-friends promotion in September and is not available as a contact person regarding this promotion. This promotion is in no way connected to Instagram and is in no way sponsored, supported or organized by Instagram. This promotion is being run solely by Lassie AB. Accordingly, any questions, comments, or complaints regarding this promotion should be directed to Lassie AB. Specifically, these should be directed to the following email address: kontakt@lassie.de.
Lassie AB shall indemnify and hold Instagram harmless from and against any and all damages, losses, and expenses (including attorneys' fees and costs to a reasonable extent) resulting from claims relating to the Sweepstakes (including, without limitation, its publication and organization).